Certified Data Analytics Tester (English)
Introduction
Nowadays, everybody recognizes the importance and added value of data for your Business model, if applied well. Whole Industries are changing: think of companies like Amazon, Uber, Netflix and Walmart.
Data is high-prioritized at more and more organizations strategy agendas. They hire (interim) professionals who can collect, analyze, model and visualize (Big) Data. Both these companies and their clients trust on reliable, complete, correct and on-time delivered information. Not just one time, but continually. Data professionals will provide this trust. They cannot permit mistakes and need the facilities and possibilities to prove that this trust is well deserved.
So, where to start? In this practical course you will get insights to a structured testing approach in complex Data & Analytics projects.
Set up
During this 2-day course at foundation level you will learn about Data & Analytics; what is it and how do to test in a Data & Analytics environment. This test method is based on international test-standards (ISTQB) with a specific and practical translation to a Data (Analytics) environment.
The course is set up in such a way that data professionals as well as test professionals share a common framework with the intention to create 'one language' regarding testing in Data & Analytics environments. Accordingly, the student will learn how to embed structured testing to reach and improve the quality goals. The course combines theory with practice and contains many exercises which connects the student with practice and delivers the most applicability.
After this training:
You will be able to define a vision and test strategy – and to translate it to an efficient test approach in data-oriented environments and -projects.
You will become familiar with test specification techniques applicable to data & analytics projects.
You will be able to distinguish between different data quality attributes, measure these and you will be able to use data profiling techniques
You wlll have become familiar with the specifics of the test environments and privacy-aspects of data its usage in data & analytics testing projects.
Exam
The course will be concluded with a test (multiple choice). The date for the exam can be set in consultation with the trainer(s). After successfully passing the exam, the attendee will be rewarded with the  certificate 'DAU-Certified Data & Analytics Tester (Foundation Level)'.
This course is part of the Data & Analytics Testing program: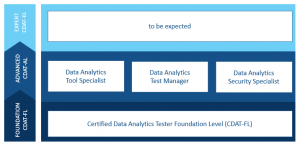 Literature
At start of the course you will receive a copy of the slides, the reader "Data & Analytics Tester Foundation" (R. Ammerlaan, A. Dorsek, ed.) and several materials to support you during the course and in your daily practice.
Program
Day 1:
Towards a common Basis:Business Intelligence, Data warehousing en Data & Analytics
Testing and the Test Process
Risk Based Testing
Tester's Skills
Testing of Reports & Dashboards
Day 2:
Testing of Transformations (ETL)
Testing the Completeness of Data
Data Quality and Data Profiling
Test environments
Privacy aspects (GDPR)
Test tools
During the course, links between theory and practice are made and supported by examples of test plans, test design techniques and test reports according to ISTQB standards.
Requirements
No specific education and/or training is required. Affinity with ICT and/or business knowledge of Data & Analytics (e.g. Data warehousing, Business Intelligence or Analytics) is an advantage. Knowledge of ISTQB is an advantage but not required.
On the second day, attendees need to have access to a laptop with he possibility to install software.
Target Audience
The course is designed for test engineers, test coordinators, business analysts, data leads, data warehouse developers and BI-consultants.
PRAKTISCHE INFORMATIE
DEELNEMERS
4-12
TAAL
Language: English
MAESTRO PRIJS
€1.195,- including exam á €200,-
PARTNER PRIJS
€1.095,- including examen á €200,-
CURSUS
classroom
MATERIAAL
Material Included
EXAMEN
Included
AANTAL DAGEN
2 days + exam on a different day
TIJD
09:00 - 17:00 lunch included
Datum optie 1
26-05-2021
02-06-2021
09-06-2021
16-06-2021
Locatie: Online English (14;00 - 17:00 CET)
Datum optie 2
12-07-2021 t/m 13-07-2021
Locatie: Berlin Germany
DIRECT AANMELDEN
Aanmelden voor Certified Data Analytics Tester (English)